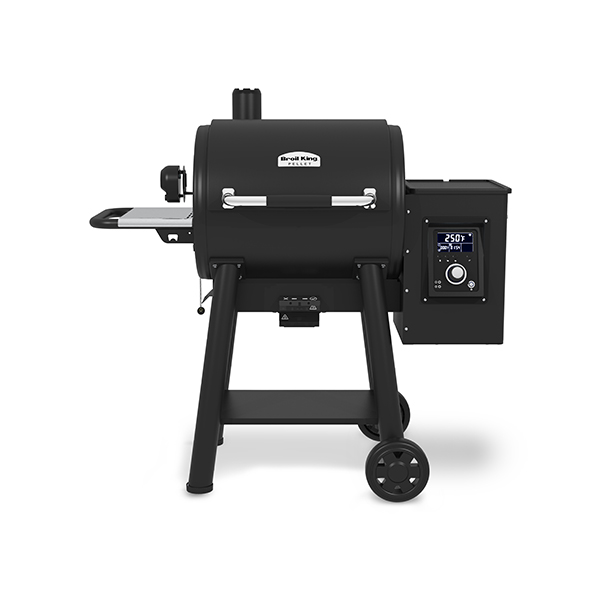 Our newest pellet grill features:
Premium Rotisserie Kit

App enabled

Heavy Duty Burn Pot

Digital Controller

Meat Probes

Ash Management System

Pellet Hopper

Porcelain Coated Cast Iron Cooking Grids



The Wifi and Bluetooth® enabled digital controller provides enhanced temperature control to smoke, roast or sear. The controller display panel is the easiest to read while grilling, check the competition.
Premium Rotisserie Kit:
Each rotisserie kit contains a stainless rod, 2 heavy duty rotisserie forks and a auto-reverse motor with 20 lb. capacity.
App enabled:
Download the Broil King® app and get the full Broil King® Pellet grilling experience. Control your grill from your device anywhere. All Broil King® pellet grills are Bluetooth® and Wifi enabled which extends your signal range from your backyard to the lumber yard, if you have a cellular signal then your pellet grill is just a touch away. Set target cooking and "doneness" temperatures, start cooking programs and browse recipes and FAQ topics.
Heavy Duty Burn Pot:
The heavy-duty stainless burn pot is designed to allow your Broil King® pellet grill reach a scorching 600°F (350°C) to sear the Perfect Steak. Our burn pot is crafted of extra-thick stainless steel and has an overall diameter of 3.5 inches (8.89 cm). The venting system on the burn pot quite literally generates a small cyclone of searing fire.
Digital Controller:
Display the current and target temperatures for the Pellet grill and temperature probes 1 and 2. Quickly lock in the most popular cook temperatures with 3 integrated quick-set buttons to Smoke, Roast, or Grill. Use the appliance style dial to dial-in the temperature in broad 10-degree increments, then push it in to tighten the temperature setting in 1-degree increments. Easily read the ultra-bright angled backlit screen day or night.
Meat Probes:
Two stainless steel electronic meat probes connect directly to the Broil King® controller allowing you to monitor not only the grill temperature but also the temperature of the food you're cooking. Watch the progress on the controller screen or Broil King® app!
Ash Management System:
A clean burn pot performs consistently and better, sift ash easily into the ash catcher of the Pellet ash management system. Ash hinders performance and needs to be removed regularly; the ash sifter ensures that your burn pot is ready to perform every cookout without having to remove your cooking grids and heat plates.
Pellet Hopper:
A high capacity 22-lb (10 kg) pellet hopper holds an entire bag of pellet and the roughly 2 lbs that you may have left in you're grill from the last cookout. On the back of the hopper you can find the dump out access hatch to clear out all of your pellets for a flavour change or long term storage.
Porcelain Coated Cast Iron Cooking Grids:
Made of cast iron and coated with a matte porcelain finish, these cooking grids hold heat effortlessly and deliver the best sear marks for the perfect steak. On the opposite side of the grid find V-shaped channels to collect and channel drippings into the drip tray.
Stop by our store today to see our newest pellet grill!
Monday - Saturday
9 AM- 5 PM